"

Javier's songwriting and the band's musicianship makes for a beautiful sonic trip to paradise"
Salúd is the songwriting muse of Javier Chaparro.  His songs draw from all over the Latin countries and are augmented with flares of classical, jazz and Americana.  The strong stylings of his band mates mash up these genres to create music that is filled with romance, inspiration and pure joy. 
Formed in 2010, the band originally started at Las Palomas Restaurant in West Lake and then found its home and its loyal following at the beloved West Austin Z Tejas where it maintained a residency from July 2011 until the restaurant's sale in 2015.  In 2012 Javier and the band took their music to Blue Rock Artist Ranch and Studios where they recorded their album, Tuyo.
While each of the members continue other projects, they perform together throughout the year playing select festivals and house concerts.  They have performed at the Kerrville Folk Festival and returned by popular demand to Quiet Valley Ranch concert venue for the Kerrville Wine and Music Festival.  They have toured around the state as part of the Texas Commission on the Arts program including shows at the Long Center for the Performing Arts in Austin.  In 2016 they took Javier's music to a new level performing it with the Brazos Valley Symphony Orchestra in College Station.  In November of 2022 they returned to College Station for a well received return performance.
For more information about each musician please visit our Bios page.
Press Photos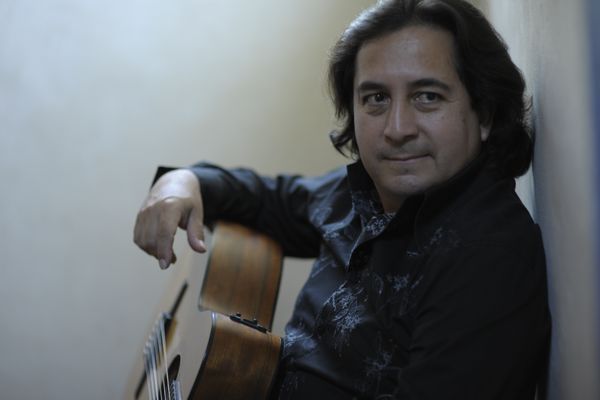 Javier Chaparro and Salúd in concert at the Long Center for the Performing Arts